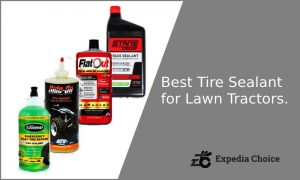 Every lawn tractor owner has faced the frustration of being interrupted by a deflated tire. And predicting that is so difficult, right? Like, what did you run over? And now what are you gonna do? How are you gonna finish mowing your lawn?
Thankfully, we're here today to help you find the best tire sealant for lawn tractor so you can avoid such situations in the future. The tire sealant is basically a fibrous, paste-like liquid that helps seal tire punctures. Although originally formulated for use with highway vehicles, they have been specialized for instant lawn tractor tire repair as well.
Below, we review 5 of the best ones, along with a comprehensive buying guide. Say goodbye to tractor tire punctures!
5 Best Tire Sealant for Lawn Tractor Reviews
Your search for the quality tire sealant for tractor is coming to an end. Find below our reviews of the top 5 sealants for your punctured lawn tractor tires!
1. NoTubes Tire Sealant – Best Tire Sealant for Tubeless Tires
Our first pick for the best tire sealant for tractor is the highly-rated gel tire sealant from Stan's NoTubes. Although intended for use with tubeless tires in bikes and cars, it's also a great match for lawn tractor tires, whether tubed or tubeless.
Made from latex and formulated to have a low viscosity, this sealant is super easy to apply to punctures measuring up to 6.5mm. One of the best things about this sealant is that it can be injected or poured, whatever is more convenient for you.
Our favorite thing about this sealant, though, is its durability. It can withstand temperatures as low as -28 degrees Celcius, so if you live in a cold environment, not to worry! What's more, the sealant is made to remain in a liquid form inside the afflicted tire for at least 2 months, and up to 7 months at the most.
Since this sealant was originally intended for use with bike tires, however, we would not recommend it for sealing heavy punctures on larger lawn tractor tires. However, if you or one of your family members also uses a bike, this is the perfect sealant to get!
Highlighted Features
Suitable for sealing both tubeless and tubed punctured tires
Quickly seals punctures measuring up to 6.5mm
Stays in liquid form inside the punctured tire for up to 7 months
Made with natural latex and has a low viscosity for ease of use
---
2. Slime 10004 Tube Repair Sealant – Best Tire Sealant for Tubed Tires

There is perhaps no tire sealant for tubed tires better known than the Slime Tube Repair Sealant. This reasonably priced yet ultra-effective sealant is one of the best you can find if your lawn tractor has tubed tires. When faced with a puncture while mowing your lawn, this gel sealant will allow you to repair it instantly and get back to work.
Primarily formulated for use with wheelbarrows and dirt bikes, this sealant can instantly and easily repair punctures measuring up to a quarter-inch. Not only is it easy to apply, but the results are also stunning: you can go up to 2 years without having to change the tire or reapply Slime.
Furthermore, the lightweight body of the container and the easy-application tube give this sealant one of the best designs we've seen. It'll fit easily into your lawn tractor's storage compartment and offer you multiple uses for several years. Plus, the sealant's non-flammable and non-toxic formulation makes for safe usage.
Highlighted Features
Intended for use mainly with dirt bikes and wheelbarrows
The non-corrosive, non-flammable, and non-toxic formulation makes this sealant safe for use
Keeps any punctures sealed for up to 2 years
Offers versatile usage with support for various vehicles with tubed tires
---
3. TireJect Off-Road Tire Sealant – Best Tire Sealant for ATV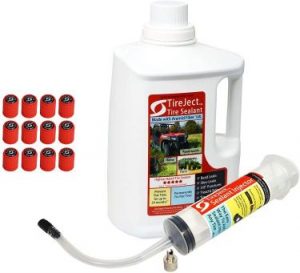 If you're looking for a good bulk use sealant, then you really can't go wrong with this 1-gallon container of tire sealant from TireJect. Highly versatile and easy to apply, this tire sealant is compatible with a wide range of farm, home, and powersports vehicles. So if you're on the search for the best tire sealant for ATV as well as for your lawn tractor, this is where you should be directing your attention.
This sealant is made to handle punctures measuring up to 3/8 inches in the tread and sidewall of the tire. Whether it's a slow leak, bead leak, or puncture, you can depend on this guy to handle it. The TireJect can even handle issues with dry rot! And it achieves all of this with the help of its super-strong construction, which combines particles from recycled tires with Dupont Kevlar fibers.
Plus, the application of this sealant is not only easy but mess-free, thanks to the inclusion of an injector tool that is meant to be connected to the valve stem directly. Your life is also made easier with the inclusion of a valve stem cap and valve core remover tool. No wonder this is considered one of the best ATV tire sealants!
Highlighted Features
Super-strength Dupont Kevlar and tire particle formulation creates a permanent seal
Can handle punctures measuring up to 3/8 inches
Able to repair bead leaks, slow leaks, punctures, and even dry rot
Suitable for use with a wide range of vehicles, including ATVs and UTVs
---
4. Slime 10011 Emergency Tire Repair Sealant – Best Tire Sealant for Cars and Trailers
What is the best tire sealant? Many would say Slime, and they would be right. Our second selection from this highly popular brand is their Emergency Tire Repair Sealant, made to be used on trailers and cars. So if you have a particularly large lawn tractor or are looking for a multipurpose sealant, this might be the one you're looking for.
This gel tire sealant works immediately after application, thanks to a highly efficient patented formula that rushes in to seal your punctured tire with a thick, fibrous gel formula that will seal holes measuring up to 6mm instantly. Plus, if you're a lover of the environment, you'll be pleased to know that the formulation is non-toxic and made with environment-friendly materials.
Do note, however, that as with any other sealant, there is a risk of increased vibration if you use this to repair any punctures on the front tires of your lawn tractor. Furthermore, sidewall punctures and bead leaks cannot be fixed with this sealant. But this is a great sealant to have stored in your tractor for quick and reliable repairs!
Highlighted Features
Capable of sealing holes measuring up to 6mm
Formulated with environment-friendly, non-toxic components
Ideal for use with highway vehicles as well as heavy-duty home vehicles
Instantly forms a durable, flexible seal when applied
---
5. FlatOut 99908 Tire Sealant – Best All-Purpose Tire Sealant
If you're searching for the best tire sealant for UTV that will also provide reliable sealing for your lawn tractor tires, this offering from FlatOut might be what you need. You can also use this on ATVs, dirt bikes, golf carts, and more. So if you're on the hunt for an effective all-purpose sealant, then read right on.
With a shelf life of up to 10 years, this tire sealant is truly impressive in its capabilities. It seals any puncture you apply it to instantly and can also be used as a precautionary measure against future leaks. If you're dealing with slow leaks, you'll be amazed by this sealant's ability to basically stop them for life.
How does it achieve this level of strength? Thanks to a very impressive formulation, including Kevlar fibers and excluding adhesives and latex, so that you never have to worry about making a mess. And, because it's water-soluble, it's also easy to clean. It's easy to see why this sealant is so popular.
Highlighted Features
Offers versatile usage with support for a wide variety of vehicle types
Formulated with super-strong Kevlar fibers to ensure a reliable, long-lasting seal
Does not include any latex or rubber, preventing messes
The non-toxic formulation makes it safe to use
The water-soluble formula makes it easy to clean up
---
Buying Guide for Tire Sealant for Lawn Tractor
Our fix a flat tire sealant reviews might have you feeling a little confused if you don't know what you're looking for. The price range and capabilities of tire sealants vary greatly. So, here's what to keep in mind when looking for the best tractor tire sealant.
Sealant Type
The first thing you need to know about tire sealant is that it comes in two different forms: aerosol and gel. Each has its own benefits and advantages and offers different purposes:
Aerosol
All single-use tire sealants come in aerosol form. Aerosol-type sealants are easy to apply from spray cans, and the application is usually quite accurate. When you apply an aerosol sealant, it inflates a deflated tire by coating the inside of the tire to plug the hole.
Aerosol tire sealants are good to have on board for tire puncture emergencies. However, they provide a very temporary solution and are only meant to be used to drive short distances.
Gel
If you're looking for a stronger tire sealant, then you need to buy a gel formulation. Thick and viscous gel sealants offer a more substantive plug, but this also makes them more difficult to apply (and it might require you to use extra equipment). However, a puncture that has been fixed with a gel sealant will definitely last longer than one done with aerosol.
Compatibility with Tractor
As we mentioned before, every tire sealant is made to be used with a specific vehicle. As such, it's of utmost importance to double-check whether the sealant you're buying is compatible with your lawn tractor. For example, Slime makes a separate sealant for tires with tubes; so if your tractor has tubeless tires, then you know what not to get.
Frequency of Use
Unfortunately, some of us expect our lawn tractor's tires to be punctured more easily than others. There's no shame in that-- taking care of a lawn is difficult! However, this means you'll have to buy tire sealant according to your projected needs. Even without frequent punctures, you might be looking to patch multiple tires with one tube of sealant or resealing the same puncture repeatedly. So look for a sealant that can be used multiple times.
Container Size
It's important to understand that tire sealant is not a permanent solution for a puncture. So, if you don't think you'll be replacing your punctured tire or contacting a mechanic, you'll have to use a larger amount of sealant to take care of the puncture. So, it's better to buy a large container to have the required amount ready in one go. However, you should also strive to ensure that your chosen sealant is suitable for repeated usage.
FAQs for Tire Sealant for Lawn Tractor
How do tire sealants work in fixing punctures?
When you apply tire sealant to a puncture, the leaking air pushes the sealant through the puncture. The liquid component of the sealant falls out while the fibers come together to form a blockage in the puncture.
Does applying tire sealant prevent punctures from happening?
This depends on the type of sealant you buy. While some are targeted to fix punctures, others can act as a precautionary measure.
How do you apply tire sealant?
Typically, it has to be injected through the valve into the tire. This is a good instructional video on how to use Slime tire sealant.
Does tire sealant extend the life of the tire?
It does. However, tire sealant should never be viewed as a permanent solution. Furthermore, for really bad punctures, it's best to replace the tire entirely.
Should I buy aerosol sealant or gel sealant?
Aerosol sealant is only for emergencies and for minor punctures. Gel sealant, on the other hand, is more difficult to apply as it might require the help of tools or equipment.
How much does lawn tractor tire sealant cost?
Sealants are available in a wide price range from $10 to $60. It depends on the quantity and purpose.
Final Words
We hope that our reviews have helped you find the best tire sealant for lawn tractor. Our favorites are undoubtedly this offering from Slime, but we can't deny the efficacy of this TireJect sealant for more serious punctures.
Good luck, and happy lawnmowing!